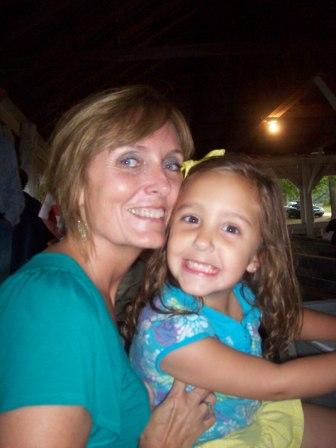 Today we went to the Bluegrass Festival at Summer Shade and listened to some very talented musicians. To be August 22nd the weather was totally weird. Cool, drizzly rain and a gentle wind blowing. It felt like fall. The bands were playing in a covered building and the benches we sat on were actually old church pews (and not very comfortable). I can't imagine sitting on them for very long.
If you've never heard bluegrass it's an unusual sound and takes a little getting used to. It's country music but with a lot of harmony. Most of the bands sang some religious songs as well as some of their own.
As you can tell by the picture, my granddaughter and I had a great time.On the way back to the car we picked up hickory nuts and you would have thought she'd found buried treasure. "My da-da will be so proud of me!" she said. I'm not sure why picking up the nuts would make him proud, but it really doesn't matter. It made her happy.
The best thing about the festival was it was free. Most of the best things in life usually are.