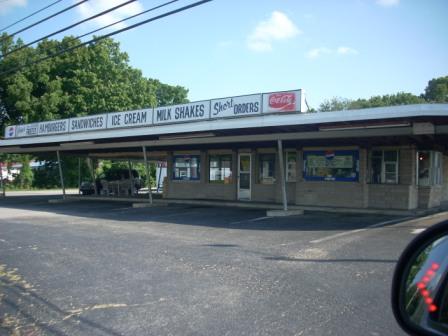 I've been thinking about my last post, about eating more ice cream. Obviously the point of Robert Hastings essay was NOT that we should all eat a gallon of Chunky Monkey every day, but that we should enjoy life. You don't have to eat ice cream to appreciate life, but sometimes ice cream helps create a celebration.
When I was a young girl sometimes on Sunday nights, after church, my parents would stop at Gene's Freeze and my brother and I would get a special treat; supper at a drive-in restaurant. I always had the same thing. A bacon and tomato sandwich, curly fries and a strawberry milkshake (with real bits of berries floating in it). I know it sounds like a heart attack waiting to happen, but it was sooo good and those trips with my mom and dad and brother were so special.
My dad worked a lot and for him to go with us anywhere was a treat in itself. As for ice cream, he was a banana split guy. At Gene's Freeze they came in little boats with lots of whip creme and a cherry on top and he could eat the whole thing at one sitting.
Mom liked ice creme sundaes but her favorite was pralines and cream, which also happens to be my favorite.
I don't remember what my brother's favorite was. I guess I was too busy drinking my strawberry shake to pay much attention to him.
The Tasty Freeze (my name for it) is still standing and is a glorious reminder of the drive-in restaurant. Long before there was Sonic, there was Gene's Freeze. It's been a pillar of our little community for years and years and I hope it continues for many more. I plan on taking my granddaughter there and telling her about the days when I could eat bacon and tomato sandwiches, curly fries and shakes and not have to worry about gaining a pound or having a heart attack.
Those were the days!