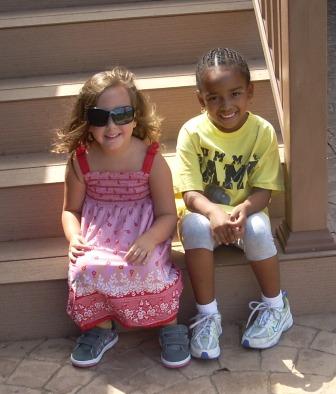 Yesterday a friend brought his little girl over to play with my granddaughter. Even though they've never met each other, the little girls immediately started playing together. Abby had gotten a pretend shopping cart for her birthday, filled with groceries and cooking utensils. The girls played "store" and played on the swing set. Within the space of an hour they were best friends.
Wouldn't it be a wonderful world if adults could do the same thing? If they could meet and within minutes be friends? 
Friendship Quotes
 Kahlil Gibran
In the sweetness of friendship let there be laughter, for in the dew of little things the heart finds its morning and is refreshed.
Frances Ward Weller
A friend can tell you things you don't want to tell yourself.
Kayla
A true friend sticks with you through thick and thin no matter what.
Unknown
A friend is someone who knows the song in your heart and can sing it back to you when you have forgotten the words.
Danish proverb
A road to a friend's house is never long.
Unknown
Similarities create friendship's while differences hold them together.
Unknown
To lose a friend is hardship, but to forget them is as if you died too.
Marie Louise De La Ramee
Could we see when and where we are to meet again, we would be more tender when we bid our friends good-bye. .
Edgar Watson Howe
When a friend is in trouble, don't annoy him by asking if there is anything you can do. Think up something appropriate and do it.
Katherine Mansfield
I always felt that the great high privilege, relief and comfort of friendship was that one had to explain nothing.